Jan 25, 2017, 11:20am EST
Philadelphia Business Journal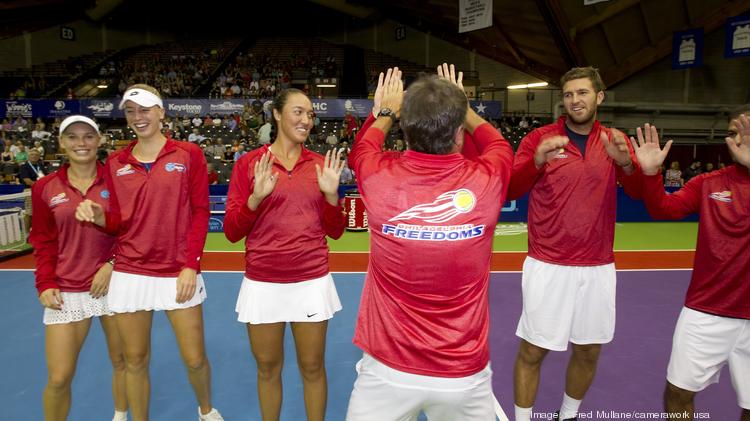 The Philadelphia Freedoms will have a new home and new presenting sponsor this season.
The Freedoms of World TeamTennis have formed a partnership with Saint Joseph's University under which the team will play all their 2017 homes matches at the Philadelphia school's Michael J. Hagan Arena.
he team also has signed a deal under which AmerisourceBergen, a Valley Forge-based global pharmaceutical distributor and services company, will serve as the Freedom's presenting sponsor this year.
The financial terms of both deals are being kept confidential.
The Freedoms for the past six seasons have played their home matches at Villanova University Pavilion. The team's previous venues have also included a temporary court erected in the parking lot of the King of Prussia Mall and Cabrini College in Radnor, Pennsylvania. In the first year of World TeamTennis more than four decades ago, the Freedoms played their home matches at the Spectrum — the former home of the Philadelphia Flyers and 76ers.
"For the first time since our inaugural season in 1974, the Philadelphia Freedoms will be playing in Philadelphia," said Freedoms owner Billie Jean King. "With the construction at Villanova, we wanted to bring the team's home closer to Center City, and we are thrilled to play our 2017 home matches to Hagan Arena at Saint Joseph's. We look forward to welcoming our fans, and creating new ones, when we open our season this summer."
Dr. Mark Reed, president of Saint Joseph's, said the partnership is part of the university's effort to position the arena — home for the school's men's and women's basketball teams — as a multi-purpose convocation center that can provide "new and exciting opportunities for the surrounding region to visit our campus."
The Freedoms' 2017 season begins on July 16.