Mar 21, 2017, 2:10pm
John George, Senior Reporter, Philadelphia Business Journal

Tennis legend Billie Jean King was in the city Tuesday to talk about World TeamTennis, which she created 45 years ago, and the Philadelphia Freedoms, which she has owned since their inception. Not coincidentally, tickets for the 2017 season went on sale Tuesday online. Here's what she had to say about selling her majority stake in the WTT, the Freedoms move to a new home arena and the team's prospects for the upcoming season.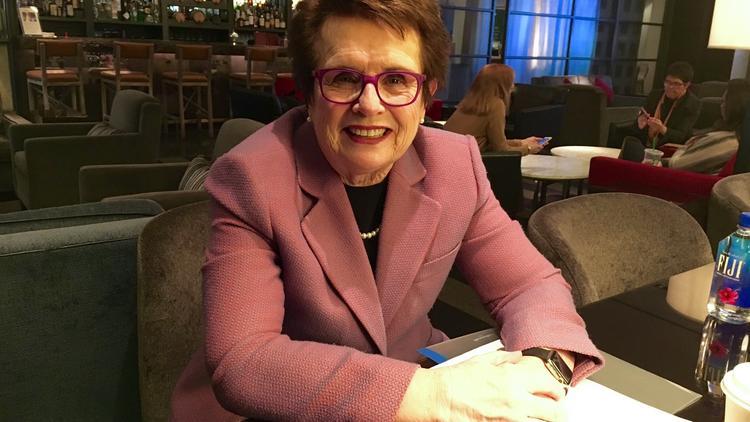 Earlier this month you sold your majority ownership of World TeamTennis to Mark Ein, founder and owner of the Washington Kastles, and Fred Luddy, owner of the San Diego Aviators. Why?
I did. I am 73, and I thought it was time. This allows me just to concentrate on the Freedoms, which makes me really happy. It's what I wanted to do.

And the team is back playing in Philadelphia again, this season at St. Joseph's University.
We are on City Ave, which is great. We are in Philadelphia, but we didn't want to lose the Main Line people who came to Villanova [where the team spent the past six season]. This way we get both.

Do you see this as a temporary thing until the renovations at Villanova's arena are completed?
I don't know. If this goes really well.… Everyone at St. Joseph's — the athletic director, Don Dijulia, and the president, Mark Reed, and Mike Hagan [an alumnus who with his wife, Joyce, made a $10 million donation to expand and renovate the school's field house now known as the Michael J. Hagan Arena] — has been really great and nothing but helpful, helpful, helpful. Mike Hagan I know from his Nutrisystem days. Just to be at the arena with his name on it is extra special for me. The arena is just perfect for us. It's so clean. Villanova was great to work with too, but the arena was getting tired. They knew it was getting tired. That's why they are refurbishing it. At St. Joseph's we will have more space for VIP rooms and more space for the players and space for other activities. We'll be able to do a program for kids. We always want to get kids involved with tennis. You look at all the space we'll have and it's phenomenal I think its going to work out great.

So what's new for this season?
We have AmerisourceBergen as our new [presenting] sponsor. I don't remember exactly how we met them, but we had a dinner about a year and a half ago with them where Steve Collis [the Valley Forge pharmaceutical distribution and services company's chairman and CEO] invited a lot of people. Nothing came from it at that time. Then, when Cancer Treatment Centers of America said they didn't want to continue as presenting sponsor because of budget constraints, we went to AmerisourceBergen and they stepped up like that [snapping fingers]. They are one of the biggest companies in the Philadelphia area and they made a three-year commitment with us, which is huge for us. We are really fortunate Steve stepped up.

Can we expect any new promotions for the upcoming season?
We're gong to do a day match [on July 26]. We want kids to be able to come. Sometimes if it's a 9 p.m. match parents think its too late, especially if their kids are young. Barbara [Perry, the team's general manager] came up with this idea that we should try at least one day match. If it works we may make it a regular thing.
How does the team look this year?
We are absolutely thrilled with our team. Fabrice Martin was the Rookie of the Year last year and he's back. Taylor Townsend will be available for the whole season, which is great. We have Donald Young and Darian King, who is from Barbados. They are both doing great. We have Sloane Stephens, who we hope will be ready. She had a foot operation. If she's back to 100 percent, that will be great. [Andy Roddick will also play with the Freedoms for three of its seven home matches in July] And we have Craig Kardon coming in as our coach. We open on July 17.

So is a WTT championship coming back to Philadelphia?
God I hope so. We haven't won since 2006. We're overdue.
John George covers health care, biotech/pharmaceuticals and sports business.
Full story from Philadelphia Business Journal here.